Introducing the Hydraulic Leveling Tilt System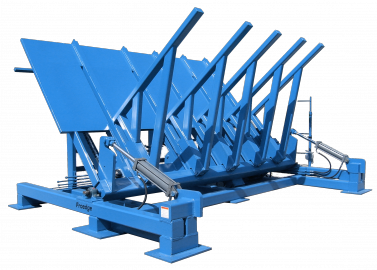 About Hydraulic Leveling Tilt System
Our operator controlled-leveling hydraulic tilt system is the beast of tilt hoist solutions. Our standard machine, built from tubular steel can lift 15 tons, but the unit is available with lighter or heavier capacities as options. Skinned with 7 gauge steel for covers.
Two 5'' bore tilt cylinders
One 7'' bore raise lower cylinder
One 3'' bore level cylinder
What Makes this Tilt System Special.
Eliminating the spool wrap means removing many moving parts.
Tight control of speed with simple flow controls
Gentle start and stop
Easy adjustment of pack on either left or right side creates smooth layer delivery
Fast reset for next package with the 42 GPM piston pump design
Optional increased weight capacity
Low maintenance due to few parts
Variable speed up, with high speed up and low speed layer delivery.
Greatly increased production
Hydraulic Leveling Tilt System Images and Video