Introducing the Leaf Chain Tilt Hoist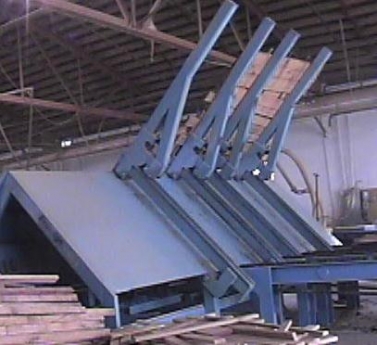 About Leaf Chain Tilt Hoist
We build both electric leaf chain and hydraulic leaf chain tilt hoists. Each are ideal under certain circumstances.
Electric Leaf Chain Spool Wrap Design
Spool wrap is driven by either an electric motor and brake with reducer or a hydraulic motor with an hydraulic brake.
Pros:
Less money up front
No hydraulics
Simple design
Cons:
The start/stop of electric motors typically consume more electricity. A variable speed inverter duty system can lower usage. We can also implement clutch/brake options that keep the main motor drive running continuously via the firing of the clutch / brake system.
Hydraulic Leaf Chain Spool Wrap Design
Heavy-duty tube steel constructions. The arms are raised and lowered via a hydraulic motor / gearbox in combination with high tensile leaf chain. The hydraulic motor allows for simple 2-speed operation. Therefore down travel is twice the speed of up travel. Braking is achieved through a hydraulic brake, which is far more reliable than an electric brake. Hydraulic cylinder raising / lowering has been avoided due to the speed problems it creates.
Pros:
Perfect for high torque loads, even at start up and frequent starts.
Especially rugged and reliable.
The HPU starts and runs continuously, lowering electric consumption
Cons:
A bit more complex
Valves to contend with
Hydraulic fluid may be unappealing
Approximately 20% pricier than electric leaf chain spool wrap design
General Notes - Leaf Chain Spool Wrap Design
Number of arms and spacing dependent on lumber lengths and total weight of packages. Distribution of total lifting weight is considered.
Type of leaf chain used is based on total lifting weight.
Commonly Purchased With:
Infeed decks
Stick belts
Incline stick belts or unscrambler (Timed on / off cycle)
Pre-wired starter panels
Let down chains w/uhmw slides
Turnkey installations
Hoist arms for 4', 6', 8' Lumber
Leaf Chain Tilt Hoist Images and Video