Introducing the Tilt Let Down System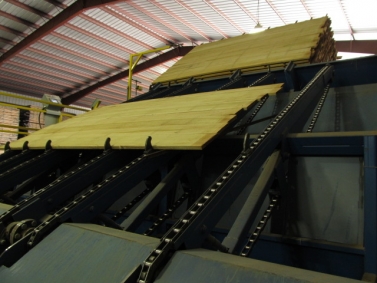 Introducing the Tilt Let Down System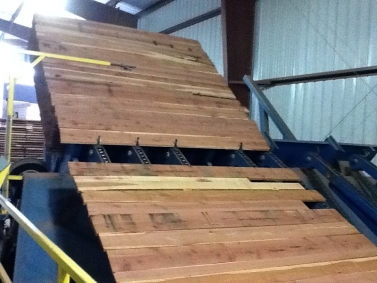 About Tilt Let Down System
Our tilt let down systems are designed to deliver single layers of lumber to the chains. We offer both flat(non lugged) and declined versions of our let down system. Lugged decline chains are more commonly requested, as they offer a few distinct advantages:
The decline controls the layer better by simply "catching" the entire layer as it slides off the hoist, before gaining speed.
It maintains the order of the layer better. In cases where lumber needs to go directly to secondary processing, and orderly layers are very important, a non-lugged design becomes very important.
Since control of the layer is maintained, it tends to create a safer environment for the operator when they are near the hoist.
Features
Intelligent chain spacing. Supports lumber so that while no boards are lost, sticks are removed.
Let down chains are timed with a photo eye and PLC. We program the chain to always be in position to accept another layer from the hoist. Depending on the length of chain and lug spacing, there might be more than one layer held on the chains at any one time.
Rugged chain. 81x is preferred and bottom tensioners are required.
Typical drive shaft is 1-15/16 or 2-3/16 TGP 1045. Keyed sprockets or keyless torque hubs on drive.
Idlers are typically oillite bushings with grease alemites.
Let down chains are used anywhere a tilt hoist is utilized to break down lumber from a package to a layer.
Ordering Options
We work with each customer to best determine individual needs. We can build, shop test and ship for customer install or we can provide installation services as well. We can also build in a containerized fashion for export either with minimal reassembly or complete reassembly.
Tilt Let Down System Images and Video