Introducing the Turning Fork Lumber Stacker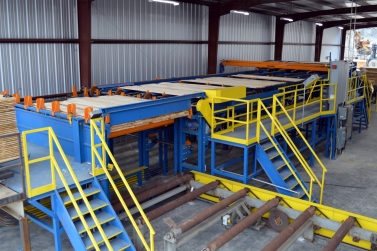 About Turning Fork Lumber Stacker
Froedge stackers have been utilized across the country for decades, stacking lumber fast and accurately. Froedge stackers are engineered with a simple design philosophy, incorporating a balance of strength and mass, to provide the greatest value, functionality, and long life. Over the years, our core design remains consistent – a testament to getting it right the first time. Froedge stackers are designed to use turning forks, as opposed to conventional forks because the movement from the turning arm "even-ends" the lumber a final time during the stacking process. Stacks are neater and drying efficiency is increased. The extra movement does not affect production capability, with some customers reporting production levels of over 140,000 bdft of stickered 4/4 hardwood lumber per 8 hour shift.
Engineered For Peak Performance
The carriage speed is oscillated during the cycle to prevent sudden starts, stops, and direction changes. This soft start/stop feature increases production while reducing impact, vibration and heat, and in turn, maintenance and repairs.
Quick-cycle hoist reduces time between packs, increasing production.
A touch screen panel control allows the operator to control many variables in the process, from speed to package layer amounts.
Optional width measurement system creates pre-programmed layers, allowing automatic operation.
Equipped with 3, 4, 5, 6, or 7-strands of roof top chain, based on customer needs.
Variable number of forks, based on customer needs.
Separate variable speed controls on stacker forks and rooftop chains.
Hydraulic power, auto heater & cooler.
Even-end station makes neater packages.
Hydraulic pinch-offs.
Hydraulic layer hold back stops
Multiple package widths
Optional stick layer platform
Left or right hand operation
Left, right, or in-line outfeeds (with optional self-centering package positioning.)
See it in action in the video at the bottom of this page.
Turning Fork Lumber Stacker Images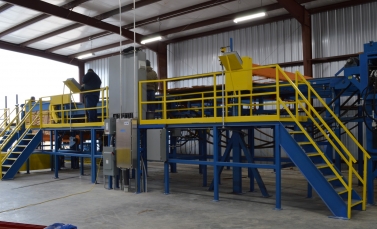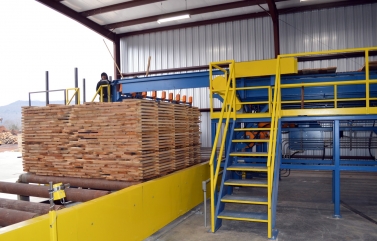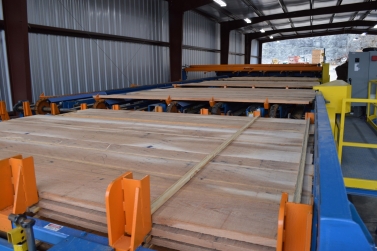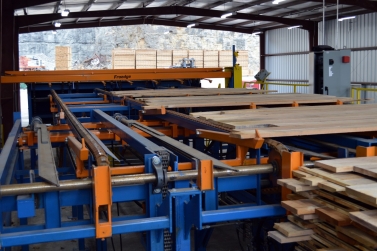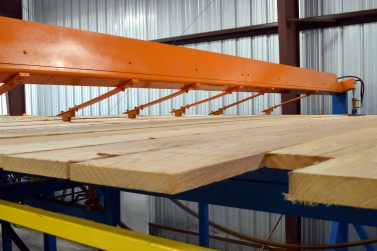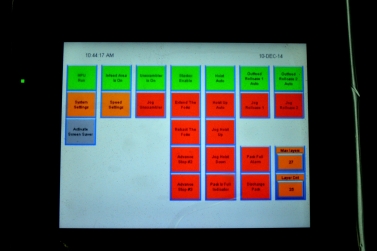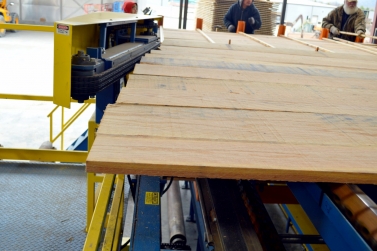 Product Literature